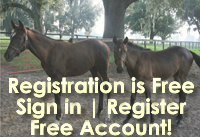 Welcome to Thoroughbred Showcase!
Buy or sell thoroughbred race horses at Thoroughbred Showcase. You can buy race horses for sale or sell your thoroughbred race horse.
Register or sign in to list your horse. Contact us if you have any question or would like to advertise on our site - jveitch@thoroughbredshowcase.com.

Find a Horse

FEATURED HORSES (click on picture to open ad)
$ 25 000

Sire:


Soldat

Dam:


Maid Guinevere

Name:


Sir Lancelot

Sex: Colt
DOB: April 2015
State Bred: FL
Location:


Ocala, FL




$ 7 500

Sire:


Mr. Sparkles/Deputy Minister

Dam:


Sweet Rumors

Name:


Arry

Sex: Mare
DOB: 13
State Bred: LA
Location:


Holly Springs




$ 10 000

Sire:


Wiseman's Ferry

Dam:


Pumpkin Roll

Name:


Krystallynn

Sex: Colt
DOB: 3/3/11
State Bred: Pennsylvania
Location:


Wyoming




$ 5 500

Sire:


Stalwart

Dam:


Fay Morgan

Name:


Willow Valley

Sex: Mare
DOB: 18
State Bred: IL
Location:


Illinois




$ 1 000

Sire:


intise me

Dam:


try me

Name:


Try Me

Sex: mare
DOB: 6
State Bred: Florda
Location:


Salem




$ 8 000

Sire:


Sir Paul Thau

Dam:


Table for Two

Name:


Two Roses

Sex: filly
DOB: 2
State Bred: Mississippi
Location:


Nashville, TN




$ 1 200

Sire:


Cud Be Me

Dam:


Seasbreeze Empress

Name:


Cud Be Ruby Robin

Sex: Mare
DOB: 6
State Bred: Indiana
Location:


Ridgeville, Indiana