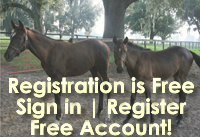 Thoroughbred Showcase was designed to showcase, advertise and market Thoroughbreds of all ages, and the Services that support the Thoroughbred industry, throughout the year, and at an affordable price.

It was also designed for ease of use and as a Reference Guide for Local Services, Racetracks, Sales Companies and Organizations

We wish to promote all aspects of the Industry and welcome any ideas or suggestions that will help make this site an invaluable tool for your business.

This site was also designed to promote the Health, Well-being, and Humane Treatment of all our Equine Athletes. We have added a section called Second Chances as a way to place Horses no longer suitable for racing or breeding.

All of us at the Thoroughbred Showcase welcome you and look forward to providing you with the Premier Site for the Thoroughbred Industry.


A % of all revenue from this site will be donated to the NTRA Charities and Doctors Without Borders