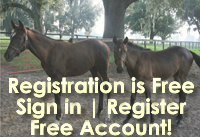 Thoroughbred Showcase is dedicated to providing up-to-date information for the Thoroughbred Industry.


Below is a Search Engine that searches ALL of our Affiliates' websites.


You can find any article, any information you are looking for within our vast information database!


If you would like to advertise with us, please contact us.

No site? No Problem!


Computaid, Thoroughbred Showcase's web designers can build you a site today! Contact us for details!